INFINITI Q
The Q45 is Infiniti's flagship and comes powered by a 340hp V8 engine driving the rear wheels, offering well-balanced handling for a car its size.

The Infiniti Q45 receives a freshened exterior for 2005. In addition, the active damping suspension that was previously optional is now standard.

JB's RATING

STARTING MSRP

N/A

ENGINE:

4.5l 8-cyl. (340hp)
After a complete redesign for 2002, the Infiniti Q45 adds more standard equipment for 2003. Heated front seats,
more...
The Infiniti Q has been completely redesigned for the 2002 model year. Powered by the strongest V8 available in
more...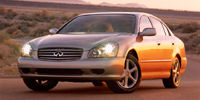 FIND A USED INFINITI Q
Find the used Infiniti Q of your choice from a dealer in your area. Search our used car listings now.