OVERVIEW
BODYSTYLE:
CLASS:
ENGINES:
2.9l Flat-6 (255hp)
3.4l Flat-6 (310hp)
The Porsche Boxster comes powered by a choice of flat-six engines mounted mid-ship. The Boxster offers excellent handling and great entertainment for up to two passengers.
For 2010, the Porsche Communications Management system gets a larger (6.5-inch) touchscreen, a simplified control layout, and offers mp3 player compatibility and Bluetooth cell phone connectivity. The steering wheel is now a three-spoke unit, and the sound system is now Porsche's CDR-30 unit with a CD/mp3 player.
The 2010 Porsche Boxster Roadster is powered by a base 2.9-liter Flat-6 with 255 hp. Also available is a 3.4-liter Flat-6 with 310 hp. Standard features include leather seat-upholstery, 6-way front bucket seats, AM/FM radio with CD-player, cruise control, tilting and telescoping steering-wheel... MORE FEATURES
The 2010 Porsche Boxster Roadster is available in 2 trim levels:
FIND A USED PORSCHE BOXSTER
Find the used Porsche Boxster of your choice from a dealer in your area. Search our used car listings now.
ALSO CHECK OUT THESE MODELS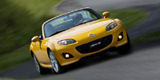 Warning
: include(../../nissan/370z/2010/review/data.php): failed to open stream: No such file or directory in
/home/jbcarpgs/public_html/functions/titlefunctions.php
on line
155
Warning
: include(../../nissan/370z/2010/review/data.php): failed to open stream: No such file or directory in
/home/jbcarpgs/public_html/functions/titlefunctions.php
on line
155
Warning
: include(): Failed opening '../../nissan/370z/2010/review/data.php' for inclusion (include_path='.:/usr/lib/php:/usr/local/lib/php') in
/home/jbcarpgs/public_html/functions/titlefunctions.php
on line
155