REVIEW
From Edmunds.com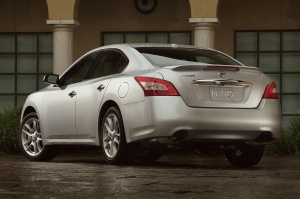 PROS
Precise steering
Strong V6
High-quality interior craftsmanship
Plenty of high-tech features
Excellent iPod integration
CONS
Lacks the brand cachet its price tag might imply
Compromised middle rear seat with Sport or Premium packages
Equipment stuffed into expensive packages
As you move from one automotive segment to the next, you'll no doubt encounter some gray areas in which one segment overlaps another. These gray areas are not unlike those alluded to in real estate, when wise buyers suggest buying the crummiest house in a nice neighborhood, rather than the nicest home in a less-desirable area.
The 2010 Nissan Maxima is the automotive equivalent of a nice home in a middling neighborhood. With fully loaded models priced in the mid-$30,000 range, this mainstream Nissan sedan encroaches on luxury-brand territory. The "neighborhood" isn't that great -- the Nissan brand lacks the glamour of others in the luxury class. Still, we're here to tell you that $35 large gets you a lot of car -- in some cases, more than you'd get from luxury sedans costing thousands more.
Redesigned just last year, the newest Maxima shares its basic front-wheel-drive architecture with the sporty Altima midsize sedan; however, its length has been reduced and width increased to improve handling. Underneath the sharply styled exterior is Nissan's ubiquitous 3.5-liter V6, though in this case it's been massaged to crank out an ample 290 horsepower.
Inside, you'll find a well-designed interior with excellent materials. The optional navigation system is pretty much the same as you'll find in an upscale Infiniti product like the G37, and it's a good one thanks to an easy-to-use interface; there's also an iPod integration setup that works as well as any we've seen. Nissan has even simplified the options structure for 2010, addressing one of our gripes regarding last year's model.
As long as you don't feel the need to impress others with a status-oriented nameplate, the 2010 Nissan Maxima is definitely worth a look. Other choices like the Acura TSX and TL, Hyundai Genesis V6 and Volkswagen CC are in the Maxima's price range and have equally nice interiors, but most lack the Maxima's fun-to-drive nature.
Of course, using that real-estate maxim, you should also look at base versions of models like the Audi A4, Infiniti G37 and Lexus IS. These choices will deliver more dynamic performance and prestige, but they lack the Maxima's long list of features. Among all these sedans, there's really not a bad one in the bunch. The decision, then, comes down to whether you'd be happy living in the Maxima's zip code.
WHAT'S NEW FOR 2010
After a full redesign last year, the Nissan Maxima heads into 2010 pretty much unchanged. Nissan has simplified the sedan's options packaging by offering one unified Technology package rather than three. Also debuting is a Monitor package, which allows customers to enjoy a 7-inch color monitor without having to first purchase the Technology package. Bluetooth is now standard across all models.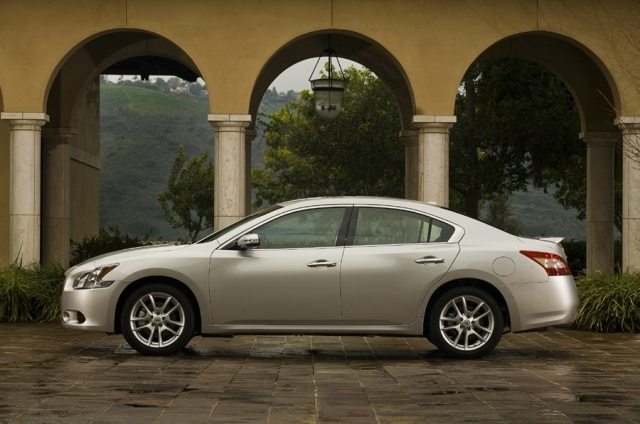 TRIMS & EQUIPMENT
The 2010 Nissan Maxima is a midsize entry-level luxury sedan available in S and SV trim levels. The base model S comes standard with 18-inch alloy wheels, automatic headlights, cruise control, a sunroof, keyless ignition/entry, dual-zone automatic climate control and a tilt/telescoping steering column, along with eight-way driver and four-way passenger power front seats. Also standard in the S are a 60/40-split rear seat, cloth upholstery, a leather-wrapped steering wheel with audio controls, a trip computer, an auto-dimming rearview mirror, Bluetooth and an in-dash six-CD changer with an auxiliary audio jack.
The Maxima SV adds integrated turn signals located in the exterior mirrors, foglamps, a driver-seat manual thigh-support extender, power lumbar support, leather upholstery and a nine-speaker Bose stereo upgrade with satellite radio.
The SV can be optioned with either the Premium or Sport packages -- both of which add paddle shifters, xenon headlights, a driver-side auto-dimming outside mirror, heated front seats, heated outside mirrors, driver memory functions and a power tilt-and-telescoping steering column. These packages also include a heated steering wheel, upgraded leather upholstery and trim, and rear bucket seats with a center trunk pass-through in lieu of the 60/40-split seats.
The Premium package differs by adding a dual-panel sunroof, a rearview camera, a 7-inch LCD screen, a ventilated driver seat, rear-seat audio and HVAC controls, automatic up/down rear windows, a power rear window shade, wood trim, an audio-visual auxiliary audio jack, a 2GB music server (replacing the six-CD changer) and a dedicated iPod interface. The Sport package features a sport-tuned suspension, 19-inch wheels, a rear spoiler and metallic-look interior trim. High-performance summer tires are an added option with the Sport package.
The Technology package adds a voice-activated navigation system with real-time traffic, a 7-inch LCD screen with DVD playback, a single in-dash CD player (which replaces the six-disc version), streaming Bluetooth audio and 9.3GB of digital music storage. The new Monitor package includes the color monitor, 2GB music server, auxiliary audio/video inputs, rearview camera and USB port. Finally, the Cold package adds heated front seats, a heated steering wheel and heated outside mirrors.
INTERIOR & SAFETY
The 2010 Maxima's interior is as upscale as you'll find in the Nissan lineup. The cabin is understated and surrounds passengers with high-quality materials worthy of the sedan's luxury-car price tag. When combined with the Premium or Sport packages, the cabin is on even footing with its pricier Infiniti G37 cousin. We're fond of the Maxima's optional iPod interface – it's one of the best out there.
Interior space is also praiseworthy, providing ample, adult-sized room. The front seats are a pleasant blend of firm support and soft cushioning, but lateral support may be lacking for those who enjoy serpentine back roads. Buyers should be aware that the optional rear bucket seats render the center position all but unusable because of the narrow and elevated seat cushion.
The trunk easily accommodates a pair of golf bags thanks to its wide opening, and the 14.3 cubic feet of luggage space will also accept larger suitcases. The standard 60/40-split rear seats can be stowed for bulkier items, but the optional bucket rear seats offer just a center pass-through for longer objects.
Standard safety equipment for all 2010 Nissan Maximas includes antilock disc brakes, stability and traction control, front-seat side airbags, full-length side curtain airbags and front active head restraints. A rearview camera is optional on SV models.
In government crash tests, the Maxima scored a perfect five out of five stars for frontal- and side-impact protection for all occupants. The Insurance Institute for Highway Safety awarded the Maxima its highest score of "Good" for frontal-offset crash protection.
PERFORMANCE & HANDLING
Powering every 2010 Nissan Maxima is a 3.5-liter V6 producing 290 hp and 261 pound-feet of torque. Power is sent to the front wheels via a continuously variable transmission (CVT) that can be overridden by six simulated "gear" ratios selected via steering-column-mounted paddle shifters (if optioned on SV models).
In testing, the Maxima SV accelerated from zero to 60 mph in 6.3 seconds, which is in line with the acceleration times of many entry-level luxury cars. The EPA estimates fuel economy at 19 mpg city/26 mpg highway and 22 mpg combined.
Though Nissan's marketing would have you believe that the 2010 Maxima is a "four-door sports car," that's not really the case. This sedan is just too big and heavy to be kin to the 370Z. But it's still a very good sport sedan and it should please the vast majority of drivers. Further helping its case is the Maxima's exceptional steering, which boasts light weighting, plenty of communication and spot-on precision. For the money, though, we would forgo the optional Sport package, which over-stiffens the compliant ride without any appreciable performance gains.
It used to be that when we'd encounter a Nissan fitted with a CVT, we were filled with a combination of dread and loathing. But that's not the case with the 2010 Nissan Maxima, as its CVT is well-suited to the strong V6.
VERDICT
The 2010 Nissan Maxima serves as an appealing alternative to many entry-level luxury sedans thanks to its engaging driving dynamics and high-quality construction.
Copyright Edmunds.com, Inc. All rights reserved. First published on www.edmunds.com and reprinted with permission. Edmunds and the Edmunds.com car logo are registered trademarks of Edmunds.com, Inc.
FIND A USED NISSAN MAXIMA
Find the used Nissan Maxima of your choice from a dealer in your area. Search our used car listings now.
ALSO CHECK OUT THESE MODELS