SAFETY RATINGS
| | |
| --- | --- |
| TRIM | MSRP |
| Mazda 6i Sport Sedan | $19,140 |
| Mazda 6i Sport VE Sedan | $19,900 |
| Mazda 6i Touring Sedan | $22,390 |
| Mazda 6i Grand Touring Sedan | $24,240 |
| Mazda 6s Sport VE Sedan | $22,360 |
| Mazda 6s Touring Sedan | $25,000 |
| Mazda 6s Grand Touring Sedan | $27,150 |
IIHS FRONTAL OFFSET CRASH TEST RATINGS
Overall
Structure / Safety Cage
Restraints / Dummy Kinematics
Injury Measures
Head / Neck
Chest
Leg/Foot Left
Leg/Foot Right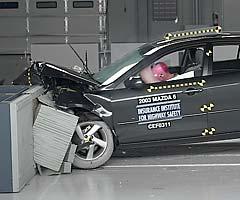 Injury Measures:
Measures taken from the neck, chest, and both legs indicate low risk of injuries to these body regions in a crash of this severity. A high head acceleration occurred when the dummy's head hit the B-pillar, indicating that injuries to the head would be possible.
Restraints / Dummy Kinematics:
Dummy movement was well controlled. During rebound, the dummy's head hit the B-pillar.
NHTSA CRASH TEST RATINGS
Frontal Impact

Driver's Side:

Passenger Side:

Side Impact

Front Seat:

Rear Seat:

Rollover

2WD:
FIND A USED MAZDA MAZDA6
Find the used Mazda Mazda6 of your choice from a dealer in your area. Search our used car listings now.
ALSO CHECK OUT THESE MODELS