REVIEW
From Edmunds.com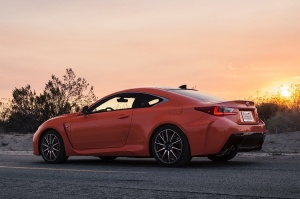 PROS
Gorgeous, well-built cabin
Refined and powerful V8 with a soundtrack to match
Benign handling characteristics are user-friendly
Many comfort and convenience features on offer
CONS
Feels heavy (because it is)
Touchpad-based infotainment and climate controls can frustrate
Benign handling characteristics fail to excite
No manual transmission option
The distinctively styled Lexus RC F doesn't have it easy. Its German competitors were strong when it debuted in 2015, and they haven't relented in the meantime. The main hurdle for the RC F is weight — it is hundreds of pounds heavier than the BMW M4. In the traditional metrics of performance-car accomplishment, therefore, the RC F suffers. This prodigious poundage blunts not only its acceleration but also its eagerness to change direction.
Moreover, its brakes can wilt under hard use, although this is something you'll only encounter when lapping a racetrack.
In the real world, the RC F finds its groove. Its interior is flat-out gorgeous, its seats superb and its driving manners refined. Its non-turbocharged 5.0-liter V8 may not pin you to your seat as firmly as the 467-horsepower rating suggests, but it's plenty quick for street use and makes wonderful sounds.
WHAT'S NEW FOR 2017
The Lexus RC F receives adaptive suspension dampers and Scout GPS Link capability for 2017.
TRIMS & EQUIPMENT
The 2017 Lexus RC F is offered in a single configuration, so if it has piqued your curiosity, the only thing left to do is to decide on optional equipment. The Premium package is our favorite extra — it bundles a lot of the best stuff like automatic wipers, LED headlights, heated and ventilated seats, parking sensors and rear cross-traffic alert. Audiophiles will understandably be tempted by the 17-speaker Mark Levinson premium audio system. You might think we'd automatically recommend the Performance package, but the RC F is one case where we suggest you reconsider. For its intended purpose of providing a sporty experience on the street, the RC F is just fine without this expensive add-on.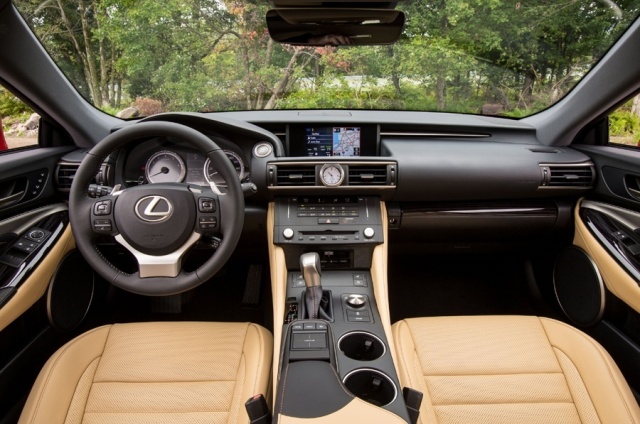 INTERIOR
Design and materials are excellent, perhaps class-leading. Usability is poor, however, as is visibility. Space for passengers and stuff is merely OK.
With a smallish trunk, limited cabin storage options and a fixed-in-place rear seatback, practicality takes a hit. The 10.4-cubic-foot trunk is small for a coupe. The RC F loses the 60/40-split folding backseat of its lesser RC stablemates and gets a small center pass-through instead.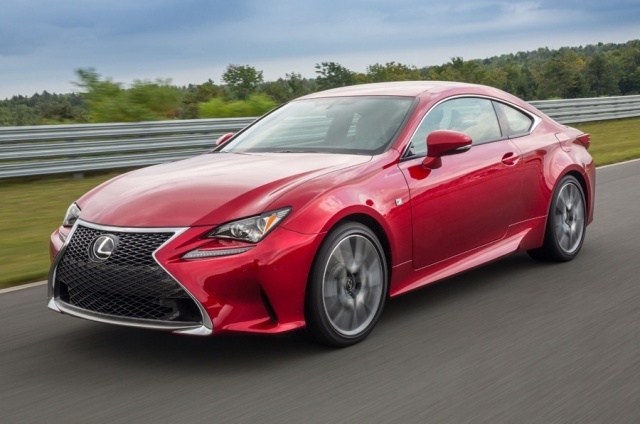 PERFORMANCE & HANDLING
The numbers on the track don't match the way this car feels on the street. The RC F is some 500 pounds heavier than a BMW M4 and drives the part, so its 467-horsepower V8 is blunted to some extent. The transmission is slow to downshift, and the engine needs revs to thrive. It has excellent brakes, however.
For a car that doesn't have particularly sharp handling, it's surprising that the RC F's ride is so rough. Seemingly every road imperfection gets transmitted through the seats and steering wheel. It's not a great car for road trips.
If you do manage to score some track time, know that the RC F has the high-performance hardware to stay within shouting distance of luminaries like the M4. But on winding backroads, the heavyweight Lexus suffers from understeer at virtually any speed, and its chassis is too easily upset by pavement irregularities.
Copyright Edmunds.com, Inc. All rights reserved. First published on www.edmunds.com and reprinted with permission. Edmunds and the Edmunds.com car logo are registered trademarks of Edmunds.com, Inc.
GET YOUR BEST PRICE
Get the best price for the Lexus RC of your choice from a dealer in your area. Request a price quote now.
ALSO CHECK OUT THESE MODELS