REVIEW
From Edmunds.com
PROS
Long list of standard features
Presidential-size backseat
Supremely quiet
High-quality cabin
Insanely low price for segment
CONS
Plain styling
Modest low-end torque
Longish braking distances
Constantly having to explain why you bought a $60,000 Hyundai
We're afraid Hyundai has gone off and done something rather rash. This Korean automaker has decided that its basic recipe for success -- building affordable vehicles with plenty of value and quality -- is entirely scalable. The result is the 2011 Hyundai Equus, a large, $60,000 premium sedan that will no doubt raise a few eyebrows from both consumers and rival car companies alike.
Most other mainstream automakers have created separate brands to sell their luxury cars, just as Toyota did with Lexus, for example. But Hyundai believes that such premium brands also attract buyers motivated by affordability, and its impressive Genesis sedan seems to be proving that Hyundai can compete with established luxury brands because the price is right. The 2011 Hyundai Equus looks to do the same, offering far more space and equipment than other competing luxury sedans. In some ways, you're getting the equivalent of a loaded $104,000 Mercedes-Benz S550 for the price of a lightly equipped Mercedes E550.
How much equipment do you get exactly? Beyond all the expected convenience features, the V8-powered Equus gets quite possibly the most comprehensive supply of standard equipment available on any car not badged as a Maybach or Rolls-Royce. Standard Equus features like a massaging driver seat, lane departure warning, adaptive cruise control and a 17-speaker surround-sound audio system are usually options on even high-end luxury cars. Hyundai even plans to supply Equus owners with an Apple iPad as a standard feature, which will function as a sort of interactive owner's manual and maintenance minder.
Underneath its stately bodywork, the 2011 Hyundai Equus is based on the Genesis platform, but it's been enlarged to provide limousine-like interior room. The Equus comes standard with the 4.6-liter V8 that's optional equipment for the Genesis sedan, and it's good for 385 horsepower and 333 pound-feet of torque. Although this engine certainly delivers all the power you really need, it doesn't have the same low-rpm grunt as the V8s in other full-size luxury sedans. Rumor has it that Hyundai will replace the 4.6-liter V8 next year with a more potent 5.0-liter V8.
Even with this minor demerit, the 2011 Hyundai Equus is a genuine competitor to other luxury sedans, both midsize cars like the 2011 BMW 5 Series and 2011 Mercedes-Benz E-Class and flagships like the 2011 BMW 7 Series and 2011 Mercedes S-Class. The Equus is solidly engineered, remarkably quiet and indulgently comfortable, and that's on top of its exceptional feature content and relatively affordable price. While some will turn away because this car shares its badge with non-luxury automobiles, open-minded drivers (or those looking for luxury without flaunting it) will find the 2011 Hyundai Equus to be an intriguing vehicle.
WHAT'S NEW FOR 2011
The 2011 Hyundai Equus is all-new.
TRIMS & EQUIPMENT
The 2011 Hyundai Equus is a large luxury sedan available in Signature and Ultimate trim levels. The Signature seats five and includes 19-inch wheels, an adjustable air suspension, a lane departure warning system, adaptive cruise control, adaptive bi-xenon headlights, foglights, automatic wipers, a windshield wiper de-icer, front and rear parking sensors, a rearview camera, power-folding and auto-dimming exterior mirrors, a sunroof and keyless ignition/entry.
Within the plush cabin you'll find dual-zone automatic climate control, heated and cooled power front seats (10-way driver, eight-way passenger) with driver massage and memory functions, a heated, power-adjustable tilt-and-telescoping steering wheel, leather upholstery, a microfiber suede headliner, heated and reclining rear seats, rear audio and climate controls, power rear window shades, an auto-dimming rearview mirror, a navigation system with real-time traffic and multimedia controller, Bluetooth, and a 17-speaker Lexicon surround sound system with an iPod interface, satellite radio and six-CD changer. An Apple iPad is also included and serves as a sort of interactive owner's manual.
The Equus Ultimate seats four, as the rear bench seat is replaced with a pair of reclining bucket seats with heating/cooling/massaging functions and a passenger-side power footrest. A center console includes storage bins, a mini refrigerator and separate controls for the climate and rear seat DVD entertainment systems. A power trunk lid and a forward-view cornering camera are also included with the Ultimate.
INTERIOR & SAFETY
If you're wondering whether a value-oriented brand like Hyundai can produce a luxury car, the cabin of the Equus will put your mind at ease. Just about every luxury and convenience feature found on a premium-badge car is available, and the quality of the design and materials is first class. It might not measure up to a European car like an Audi or Jaguar, but it matches anything you see from Acura, Infiniti or Lexus.
We particularly recommend the Equus Ultimate, a trim level that includes all the top-of-the-line features in a unique four-passenger configuration. The twin rear seats not only are both heated and cooled but also recline and offer a massage function. The passenger-side rear seat even has a power-operated footrest, though we've found in testing that it doesn't extend enough for passengers with long legs.
All navigation, climate, vehicle and entertainment information is displayed on a large LCD screen, while a knob and button array similar to the Audi MMI controls it. The climate controls consist of remarkably simple knobs and buttons. In a segment where vehicles can be hopelessly complex, the Equus does a good job of keeping its vast amount of technology manageable. Luggage space is a generous 16.7 cubic feet.
The 2011 Hyundai Equus comes standard with stability and traction control, antilock brakes, electronic seatbelt pre-tensioners, active front head restraints, a lane-departure warning system, front and rear parking sensors, a rearview camera, a driver-side knee airbag, front and rear side airbags, and side curtain airbags. In Edmunds brake testing, the Equus came to a stop from 60 mph in 131 feet, which is rather long for a flagship luxury sedan.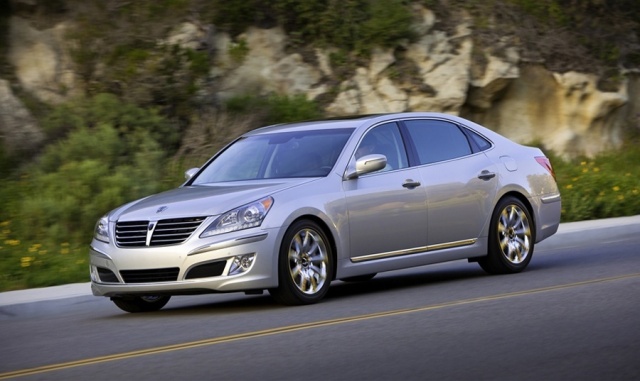 PERFORMANCE & HANDLING
The 2011 Hyundai Equus comes standard with a 4.6-liter V8 good for 385 hp and 333 lb-ft of torque when running on premium fuel (the use of regular fuel reduces output fractionally to 378 hp and 324 lb-ft). This rear-wheel-drive car is equipped with a six-speed automatic transmission. In Edmunds performance testing, the Equus went from zero to 60 mph in 6.7 seconds, which is slower than other V8-powered luxury sedans. According to Hyundai estimates, the Equus will achieve 16 mpg city/24 mpg highway and 19 mpg combined.
Silence. That's the most notable attribute of the 2011 Hyundai Equus. At idle it can seem as quiet as a hybrid vehicle with its engine automatically shut off. Once underway, things don't get much louder, as the engine is just a whisper, wind noise is virtually non-existent and only a slight tire howl can be heard because everything else is so hushed. Despite such a sedate driving environment, though, the Equus isn't a sleepy-handling limousine. There is some float to the ride in its normal suspension mode, but hit Sport and this big sedan becomes more buttoned-down over bumps. Through corners, it won't keep up with sport sedans like the BMW 7 Series or Jaguar XJ, but the Equus is stable and predictable enough if pushed.
While the power of the Equus measures up to the competition, you'll notice a little less thrust at low rpm while driving around town. This is most noticeable when accelerating from a stop, as the Equus doesn't provide the same immediate V8 punch as most other flagship luxury sedans.
VERDICT
You don't buy a Hyundai to impress your friends -- not yet, anyway. The 2011 Hyundai Equus should impress potential owners, though. With plenty of power and an extensive complement of features along with fine build quality and value pricing, the Hyundai Equus makes a compelling choice for a large luxury sedan.
Copyright Edmunds.com, Inc. All rights reserved. First published on www.edmunds.com and reprinted with permission. Edmunds and the Edmunds.com car logo are registered trademarks of Edmunds.com, Inc.
FIND A USED HYUNDAI EQUUS
Find the used Hyundai Equus of your choice from a dealer in your area. Search our used car listings now.
ALSO CHECK OUT THESE MODELS