REVIEW
From Edmunds.com
PROS
Peerless cabin versatility
Excellent passenger space
Good fuel economy
Nimble handling
CONS
Noisy highway ride
Base Fit's laggardly acceleration with the automatic
"Fit" spelled backwards is almost "tiff," and that's something the 2010 Honda Fit has never had -- a serious squabble with any of its rivals in the affordable compact hatchback segment. The Fit is so clearly the best of its breed that there's nothing to fight over. It has the most versatile interior by far, and its driving dynamics are superior as well. It's rare to find a runaway winner in this age of automotive parity, but the Fit is just that.
Inside is where the Fit really shines. Ergonomics are excellent, and visibility is superb thanks to the Fit's expansive greenhouse. A telescoping steering wheel is standard, and a navigation system is available. There's ample room for adult passengers in both front and back, and as ever, the Fit's backseat -- the "Magic Seat" in Honda-speak -- is uniquely functional. The seatbacks fold down without requiring the rear headrests to be removed, opening up a whopping 57 cubic feet of cargo capacity, enough to rival some compact crossover SUVs. You can also flip the seat cushion up to create a tall cargo area between the first and second rows.
In the engine bay resides a 1.5-liter four-cylinder engine that has powered the Fit since its 2007 debut. Numerous under-hood modifications were made when the Fit was redesigned last year, though, and the result is a noticeably peppier power delivery. The manual-transmission model is particularly perky, recording a decent 0-60-mph sprint of 8.9 seconds, though the base Fit with the automatic is noticeably slower. And while the Fit's EPA fuel economy estimates (29-31 mpg in combined driving) are slightly disappointing in light of the car's diminutive weight and dimensions, this is still one of the most fuel-efficient vehicles on the road.
The 2010 Honda Fit technically does have some competition. The Nissan Cube can't hold a candle to the Honda's driving dynamics or interior functionality, but its singular styling will doubtless win over some shoppers. The Scion xD and Toyota Yaris would be considered eminently capable economy hatchbacks if the Fit didn't exist. Suzuki's all-wheel-drive SX4 is another contender, but it's held back by lackluster fuel economy. Only the sprightly Ford Fiesta looks set to give the Fit a run for its money, but it won't be available until calendar year 2010. Honda likes to say that its Fit is "go," and we have to agree -- this is the best of the economy hatchback segment.
WHAT'S NEW FOR 2010
After a complete redesign last year, the 2010 Honda Fit stands pat.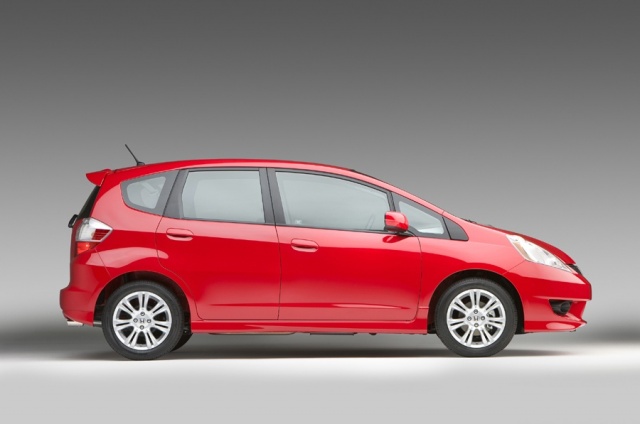 TRIMS & EQUIPMENT
The 2010 Honda Fit is a subcompact four-door hatchback available in two trim levels: base and Sport. Base Fits come standard with 15-inch steel wheels, air-conditioning, a tilt-and-telescoping steering wheel, full power accessories and a four-speaker sound system with CD/MP3 player and auxiliary audio input. The Fit Sport adds 16-inch alloy wheels, foglights, lower body extensions, a rear spoiler, cruise control, map lights, a driver armrest and an upgraded audio system with six speakers and a USB port. A navigation system is available, but only on the Sport.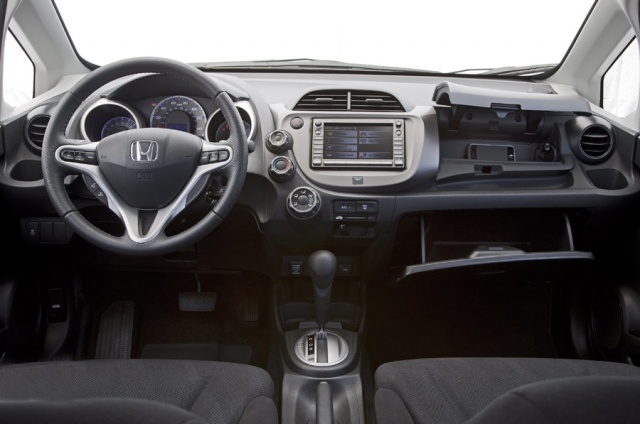 INTERIOR & SAFETY
The current Fit feels more like a real car than its even more pint-sized predecessor. Taller drivers will be at ease, as the standard tilt-and-telescoping steering wheel makes for an agreeable driving position. Rear passenger space is quite impressive for a compact hatchback -- two adults can ride in back for an extended trip without complaint. Interior materials are just so-so, but all major controls are clearly labeled and easy to use.
The rear "Magic Seat" can be configured in a variety of ways, and it's a key part of the Fit's appeal. The rear seatbacks fold completely flat at the pull of a lever, and the headrests needn't be removed first. You can also flip up the rear seat cushion to create a tall load area right behind the front seats. The front passenger seat also folds down, creating room for items up to 7 feet, 9 inches in length. Maximum cargo capacity is a scarcely believable 57.3 cubic feet.
Standard safety equipment for the 2010 Honda Fit includes antilock disc brakes, front seat side airbags, full-length side-curtain airbags and active front head restraints. Fit Sports can be equipped with a stability control system, but curiously, it is only available on models with the navigation system. Braking performance is merely adequate for this segment, as a Fit Sport we tested screeched to a halt from 60 mph in 134 feet.
In government crash testing, the Fit received a perfect five stars for frontal impacts, while in side-impact testing it received five stars for front-passenger protection and four for rear passenger protection. The Insurance Institute for Highway Safety gave the Fit its top rating of "Good" for both frontal-offset and side impacts.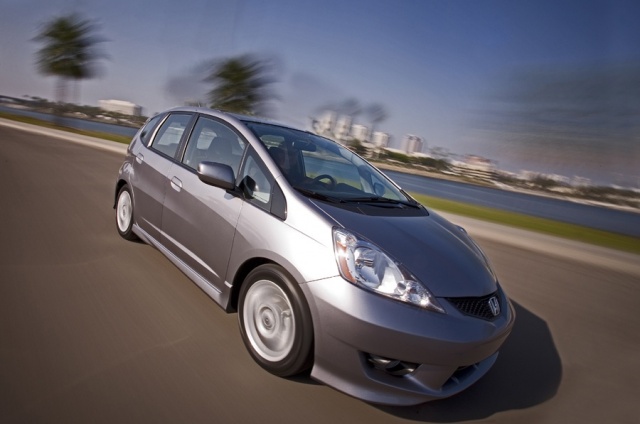 PERFORMANCE & HANDLING
The front-wheel-drive Honda Fit comes with a 1.5-liter four-cylinder engine that produces 117 horsepower and 106 pound-feet of torque. A five-speed manual transmission is standard and a five-speed automatic is optional. On Fit Sports, the automatic comes with manual shift control via steering-wheel-mounted paddles. Acceleration times vary widely depending on the transmission: The stick shift's good for about 9.5-second sprints to 60 mph, but the base Fit with the automatic requires a snooze-inducing 11.0 seconds.
EPA fuel economy estimates stand at 27 mpg city/33 mpg highway and 29 mpg combined for all Fits with the manual transmission, while the Fit Sport equipped with the automatic is rated at 27/33/30. More conservative shift programming on base models fitted with the automatic yields a superior 28/35/31 rating.
Unlike other subcompacts, the 2010 Honda Fit is actually entertaining to drive. With its 2,500-pound curb weight, sharp steering response and willing (if somewhat boomy) 1.5-liter four, the Fit adds a welcome dose of driving pleasure to the daily commute. Going with the manual transmission takes full advantage of the Fit's engaging personality, though the Fit Sport's available automatic with shift paddles is a viable alternative. The base Fit's automatic saps a goodly amount of pep from the engine, though it delivers the best fuel economy in the lineup. In ordinary driving, the Fit rides firmly, but there's a fair amount of road noise on the highway.
VERDICT
No budget hatchback can match the 2010 Honda Fit's combination of practicality and performance.
Copyright Edmunds.com, Inc. All rights reserved. First published on www.edmunds.com and reprinted with permission. Edmunds and the Edmunds.com car logo are registered trademarks of Edmunds.com, Inc.
FIND A USED HONDA FIT
Find the used Honda Fit of your choice from a dealer in your area. Search our used car listings now.
ALSO CHECK OUT THESE MODELS