No question, GMC Sierra represents a great line of full-size pickups. On the road, the Sierra is quiet and well behaved, more so than other full-size pickups. It's stable at high speeds, particularly the longer wheelbase (143.5-inch) models. It
rides well and handles well.
The 5300 V8 makes for an enjoyable engine around town and on the Interstate. The 5.3-liter (327-cubic-inch) engine is rated 295 horsepower with 330 pounds-feet of torque, plenty for light towing and hauling. The available V6 produces 200 horsepower and 260 pounds-feet of torque, but most GMC Sierra buyers opt for a V8 and automatic transmission. With 285 horsepower and 295 pounds-feet, the 4.8-liter V8 is the most popular engine for this truck. With its 6.0-liter V8, the Sierra Denali really gets with the program.
A Tow/Haul mode helps the four-speed automatic transmission keep its cool when towing. Press the Tow/Haul button on the end of the shifter, and the transmission holds gears longer before shifting up or down, reducing the annoying tendency to hunt between third and fourth gears in hilly terrain. Shifts are harder and quicker in Tow mode, reducing heat build-up in the transmission. We find it improves the performance of the truck when pulling a trailer and reduces driver annoyance levels.
| | | |
| --- | --- | --- |
| | books | sponsored links |
| | | |
| --- | --- | --- |
| | | |
Two-wheel-drive 1500s have rack-and-pinion steering, but there is still a fairly wide dead spot in the center when cruising. GMC says this is intentional, to minimize steering corrections on the highway. The steering feels a bit light, but the truck tracks beautifully and handles well on pavement, loose dirt, deep dirt, and even off-road. Recirculating-ball steering comes on 2500/3500, four-wheel-
drive, and Quadrasteer models.
Quadrasteer makes driving these big pickups so much nicer in tight, crowded parking lots. It reduces the turning circle by 10 feet on an extended-cab short-box model (from 47.3 to 37.4). On the road, our Quadrasteer-equipped truck felt more stable, especially on winding roads, where it was easier to drive, and where the trailer tracked better behind it. If you tow frequently, you really owe it to yourself to test a truck with Quadrasteer. Backing a long trailer into a parking space at a 90 degree angle is much easier with Quadrasteer than without it. The system shortens turning circles with trailers and makes backing up more intuitive. For reasons we can't explain, ride quality in the GMC Sierra Denali with Quadrasteer seems much smoother than our recollection of the full-size Yukon XL SUV with Quadrasteer.
The brakes are excellent. They are large, heavy-duty discs on all four corners; ABS is standard on all models. Refinements introduced for 2003 resulted in increased stopping power, improved pedal feel with less pedal effort, and quieter operation. Dynamic Rear Proportioning improves stability under heavy braking, whether the truck is loaded or empty, and can reduce stopping distances. Jam on the brakes, and most vehicles without ABS will lock up the rear tires, because most of the weight is being transferred to the front wheels. ABS keeps the rear wheels from locking, but you still lose braking effectiveness as most of the weight is transferred to the front tires. With Dynamic Rear Proportioning, brake pressure is transferred to the tires with the best grip, thereby reducing stopping distances.
Optional Autotrac four-wheel-drive allows the driver to lock the axle speeds together in low range for maximum off-road traction, or select an automatic mode that sends power to the wheels with the best grip. Autotrac uses electronics to control a conventional, truck-style two-speed transfer case. It's a great setup for serious off-road duty, be it mud, deep snow, silt, sand, or rugged terrain. The system was refined last year for better fuel efficiency intwo-wheel-drive mode,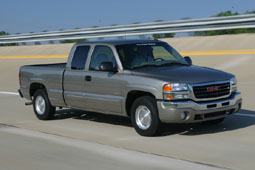 and improved low-speed cornering feel in the Auto mode.
It's fun to drive the GMC Sierra Denali on winding mountain roads. It handles well, with responsive steering, and delivers strong acceleration perform-ance. The Sierra Denali features a full-time four-wheel drive system. A planetary center differential provides a permanent 38/62 front/rear torque split; while a viscous coupling locks up progressively if one axle or the other starts to slip. It's a good system for snow, ice, water, gravel, dirt, or anywhere that presents inconsistent traction conditions. THe GMC Sierra Denali rides on a uniquely tuned suspension as well, designed to limit body roll (or lean). Sierra Denali comes with the Z82 towing package and is rated to tow trailers of up to 9900 pounds. Its all-wheel-drive system can help pull a boat up a slippery ramp. Denali is also fitted with high-capacity disc brakes from the Sierra 2500HD/3500.