REVIEW
From Edmunds.com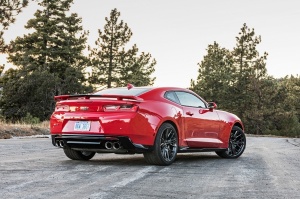 PROS
Surprisingly sharp and nimble handling around turns, with lots of grip
Appealing lineup of engines, including a strong V6 and a powerful V8, that provide class-leading acceleration
Smooth ride quality on the highway and in town
Good value, with lots of standard equipment
CONS
Small windows make it hard to see out of the car
Not much hiproom or passenger space, especially in the tiny rear seat
Some controls are awkward to use
Limited cargo space with difficult access
The Camaro has been around for a long time. By Chevy's math, it's been 50 years. And any car with a history that long is bound to have some successes and some failures. From the muscle-car legends of the 1960s to Chevrolet declaring the Camaro nameplate dead in the early 2000s and then its resurrection and iconic movie stardom just a few years later, this Camaro has been through a lot. Over that time, though, what was once an effective -- but arguably crude -- instrument of American muscle has transformed into a more mature, sophisticated and comfortable sport coupe and convertible.
Chevrolet fully redesigned the Camaro just last year, and during that process, the Camaro got faster, more fuel-efficient and better equipped. All these changes certainly help place the Camaro at the front of the pack when it comes to American muscle cars, and even puts it right in step with supposedly more refined European sports-car competitors.
Coming off of last year's redesign, the 2017 Camaro boasts impressive performance with any of its three available engines.
What makes this Camaro so good? For starters, the available powertrains offer a wide range of power and fuel economy. The standard turbocharged 2.0-liter four-cylinder engine offers an EPA-estimated 30 mpg highway, but it still puts down 275 hp, certainly enough to take it out of fuel-sipper territory. The available V6 is much more than a stopgap on the way to the V8. It, too, offers impressive power and all kinds of fun exhaust sounds. But as with any muscle car, most purists will stick to the V8, and with the Camaro that won't be a mistake. The boffo 6.2-liter engine that powers the Camaro SS is the same one that propels the Corvette. And in the Camaro, that means a 0-60-mph time of just 4.2 seconds, beating both the Mustang and the Challenger, its chief rivals.
On top of its well-sorted power plants, the 2017 Chevrolet Camaro is significantly lighter than the previous-generation car, with very capable standard and optional suspensions and lots of available tech. Previously available only on the high-performance ZL1, you can now get the magnetic suspension dampers on the SS, which makes it a truly confident car in corners and an even more comfortable car on the highway. And for the tech-savvy, features like blind-spot monitoring and Chevy's MyLink system help the interior feel a bit more grown up while bringing it firmly into modernity. The system is now compatible with Apple CarPlay and Android Auto, which alleviates some of the stress previously associated with finicky performance.
Despite all the Camaro's improvements, there are still rivals that keep pace with it. The usual suspects are the Dodge Challenger and the 2017 Ford Mustang. Both are a bit slower than the Camaro in a straight line, but both have more cargo space and several livable amenities. The Mustang has a larger (yet still tiny) rear seat and the Challenger is by far the best highway cruiser of the bunch. If you're going for a track-dedicated machine, definitely consider the hyped-up 2017 Ford Shelby GT350 as well, but know that Chevy has announced a 640-hp Camaro ZL1 that's bound to make your eyes water. There are a few luxury rivals to consider as well, like the Audi TT and the BMW 2 Series, but neither possesses the Camaro's bravado and heritage.
Whatever brand you go with, choosing a muscle car no longer means that you have to give up comfort and state-of-the-art technology. And thankfully, with the 2017 Chevrolet Camaro, you don't have to give up thrilling performance or personality either.
WHAT'S NEW FOR 2017
After last year's full redesign, the 2017 Chevrolet Camaro gets a new Teen Driver mode that allows owners to set specific driving parameters. A new 50th Anniversary Edition package for 2LT and 2SS Camaros that adds some specialized branding and exterior touches is available, and Chevy has announced a 640-horsepower Camaro ZL1 that is expected to arrive at dealers in late 2016. Also slated for late-2016 arrival is a track-oriented 1LE package that will be available on V6- and V8- equipped Camaros with the manual transmission.
TRIMS & EQUIPMENT
The 2017 Chevrolet Camaro is available as a four-seat coupe and convertible. Both have four trim levels: 1LT, 2LT, 1SS and 2SS.
Standard on the base 1LT are 18-inch alloy wheels, automatic headlights, LED daytime running lights, dual exhaust tips, a limited-slip differential (with the manual transmission), a rearview camera, keyless entry and ignition, air-conditioning, cruise control, an eight-way power driver seat, a six-way power passenger seat, a tilt-and-telescoping steering wheel, a leather-wrapped steering wheel and adjustable driving modes. Technology equipment includes Bluetooth connectivity, OnStar (with 4G LTE WiFi connectivity), a 7-inch touchscreen with Chevy's MyLink interface, Android Auto and Apple CarPlay smartphone integration compatibility and a six-speaker sound system with satellite radio, two USB ports and an auxiliary audio jack.
Chevrolet offers the 2017 Camaro convertible in LT and SS trim levels, just like the coupe.
The available Technology package adds a nine-speaker Bose audio system and an 8-inch touchscreen (also with Apple CarPlay and Android Auto functionality).
With the 2LT you get the Technology package's contents plus dual-zone automatic climate control, an auto-dimming rearview mirror and heated/ventilated front seats.
Ordering a 2LT with the Convenience and Lighting package will add heated and auto-dimming exterior mirrors, rear parking sensors, illuminated sill plates, driver memory functions, a head-up display, an upgraded multifunction gauge cluster display, configurable ambient lighting, a heated steering wheel, dual-zone climate control, wireless device charging, rear cross-traffic alert, a blind spot monitor and lane departure warning.
An RS package is available for the 1LT and 2LT models, with 20-inch wheels, xenon headlights, LED taillights, a special grille and a rear deck lid spoiler.
The 1SS builds upon features from the 1LT trim, adding a V8 engine, 20-inch wheels with run-flat tires, upgraded (Brembo) brakes, a limited-slip differential (on both manual and automatic models), automatic xenon headlights, a rear spoiler, a "Track" driving mode, a sport-tuned suspension and the upgraded multifunction display behind the steering wheel.
The range-topping 2SS includes all the features from the 2LT trim, along with unique interior accents and the Convenience and Lighting package. A 50th Anniversary Edition package is available for 2LT and 2SS Camaros that includes the contents of the RS package plus unique badging, a body-color front splitter, Brembo brakes and leather-trimmed seats with suede accents.
For V6- and V8-equipped Camaros with manual transmissions, there is an available track-oriented package called 1LE, expected to arrive in late 2016. For V6-equipped Camaros, the 1LE package will include a sport-tuned suspension, an electronic limited-slip differential, a track cooling package, various track-inspired hardware, available Recaro seats and an available performance data recorder for track times. The V8-equipped 1LE Camaros receive a similar treatment plus, bigger brakes, the optional sports exhaust and unique Recaro seats.
Other available extras include a sunroof (all Camaros), a performance exhaust (all V6- and V8-powered models), a navigation system (2LT and 2SS trims), a Heavy Duty Cooling and Brake package for the 1LT and 2LT, and adaptive suspension dampers (V8 models).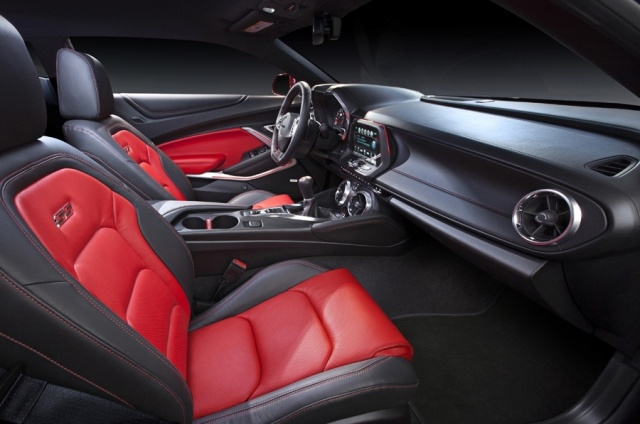 INTERIOR & SAFETY
A combination of the previous-generation Camaro and the current Corvette, the 2017 Camaro feels much nicer than in years past, but it's not quite a class leader. The front seats are more comfortable and supportive than before, but the dinky backseats are strictly for small children or contortionists. Visibility is still a literal and figurative blind spot for the Camaro, with a high beltline and a low roof that combine to hinder outward visibility in all directions. Limited light enters the cabin through the narrow windows, so the interior can feel dark and claustrophobic. A sunroof is a potential solution but it lowers the interior ceiling significantly.
We like the clean design of the Camaro's interior, but the short windows make it hard to see out of.
Materials quality, while improved, isn't the best. Some of the buttons and dials look substantial at first glance, but then they feel flimsy and cheap to the touch. Thankfully, Chevy has integrated the tachometer, speedometer and central driver information screen into one complete group for a cleaner, more modern look. GM's incorporation of its latest touchscreen interface is user-friendly, especially considering the integration of Android Auto and Apple CarPlay. It's more responsive and sharper-looking than previous MyLink systems.
Gone is the quartet of retro-inspired engine information gauges forward of the shifter; air-conditioning vents with knurled surrounds that control the temperature have replaced them. Problematically, these surrounds are where the airflow is directed and since they're poorly placed, it can mean cold knuckles or an interruption of airflow into the cabin. It's also worth noting that the Camaro is still dead last among its competitors in terms of cargo space, with only 9.1 cubic feet of cargo space in the coupe's trunk and a paltry 7.1 cubes in the convertible. That's several cubic feet less space than the Mustang coupe (13.5) and convertible (11.4) and Challenger (coupe only: 16.2).
Standard safety features on the 2017 Chevy Camaro include antilock disc brakes, traction and stability control, front-seat knee and side airbags and full-length side curtain airbags. Also standard is the OnStar telematics system, which includes automatic crash notification, on-demand roadside assistance, remote door unlocking, stolen vehicle assistance and turn-by-turn navigation.
A rearview camera is standard on all Camaros. The Convenience and Lighting package (optional on 2LT, standard on 2SS) adds several safety features, including a blind spot monitor, lane departure warning and rear cross-traffic alert. 1SS and 2SS models as well as Camaros equipped with the 50th Anniversary package get larger, Brembo disc brakes.
During Edmunds brake testing, a V6 Camaro with all-season tires came to a stop from 60 mph in 111 feet, which is a good performance for the segment. The V8 SS however, stopped from 60 mph in a staggeringly short 102 feet. The SS, naturally, was equipped with summer performance tires, so those with all-seasons may require some extra distance.
The Insurance Institute for Highway Safety tested the Camaro for crashworthiness and gave it the top rating of "Good" in the small-overlap frontal offset, moderate-overlap frontal offset and side impact tests. The Camaro's seat and head restraint design was also rated "Good" for whiplash protection in rear impacts, and it received the second highest score of "Acceptable" in the IIHS' roof strength test.
PERFORMANCE & HANDLING
A turbocharged 2.0-liter four-cylinder engine producing 275 hp and 295 pound-feet of torque is standard on 1LT and 2LT Camaros. A 3.6-liter V6 that puts out 335 hp and 284 lb-ft is optional on these trims. The 1SS and 2SS models come with a 6.2-liter V8 that produces 455 hp and 455 lb-ft. All Camaros come standard with a six-speed manual transmission, and an eight-speed automatic with steering-wheel-mounted paddle shifters is optional. On the SS manual, automatic rev-matching on downshifts is included.
EPA estimated fuel economy for 2017 was not available as of this writing, so the following figures are all from the 2016 Camaro. The turbocharged four-cylinder with the automatic is rated at 25 mpg combined (22 city/31 highway), and 24 mpg combined (21 city/30 highway) with the manual. The V6 paired with the automatic transmission is rated at 23 mpg combined (19 city/28 highway), while the V6 with the manual is rated at 21 mpg combined (18 city/27 highway). Automatic-equipped V8s are estimated to achieve 20 mpg combined (17/28), while the manual transmission V8 comes in at 19 mpg combined (16/25).
In our testing, a Camaro with the V6 and an automatic transmission accelerated from zero to 60 mph in 5.4 seconds, which is quicker than the V6-equipped Mustang and Challenger. We've also tested an automatic-equipped V8 Camaro SS. Here, it rocketed to 60 mph in just 4.2 seconds. A Mustang GT automatic with the optional Performance pack did it in 4.7 seconds and a 2015 Dodge Challenger R/T manual did it in 5.8.
Compare the 2017 Chevrolet Camaro to pretty much any of its competitors and you're likely to come away with the impression that it's fast. That would be an astute observation. We haven't tested the base turbocharged four-cylinder yet, but our tests of the V6- and V8-powered Camaros showed that the Chevy is markedly faster than both the Mustang and Challenger (at least in a straight line).
During wide-open-throttle acceleration, the eight-speed automatic transmission has quick shifts and it performs well. Other times (like slow-moving traffic jams) it's a bit dim witted and slow to select a gear. If you put that small gripe aside, though, it's easy to enjoy every other part of driving the Camaro. Its high-horsepower output and light curb weight makes a big difference on the road. Stomp the gas and you'll need little time to overtake the competition.
Hit the gas in the 2017 Chevrolet Camaro SS and you'll show your taillights to just about anything else on the road.
The Camaro's light weight is particularly beneficial toward handling, too, as the Camaro is much more than a straight-line burnout machine. It changes direction quickly, moving swiftly from corner to corner, behaving much more like a sports car than a classic muscle car. If you've got the extra cash, we absolutely recommend the Camaro's adjustable suspension. You'll like how it softens harsh impacts on bumpy roads and increases corner stability, simultaneously making the Camaro a more lively and livable car.
VERDICT
In the search for a sporty two-door coupe, you're more than likely to come across the 2017 Chevrolet Camaro. You shouldn't pass up the chance at a test-drive. With new hardware underneath and multiple available engines, you might be surprised by the Camaro's newfound levels of handling and performance.
Copyright Edmunds.com, Inc. All rights reserved. First published on www.edmunds.com and reprinted with permission. Edmunds and the Edmunds.com car logo are registered trademarks of Edmunds.com, Inc.
GET YOUR BEST PRICE
Get the best price for the Chevrolet Camaro of your choice from a dealer in your area. Request a price quote now.
ALSO CHECK OUT THESE MODELS